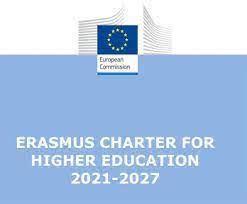 The University of Mostar has been awarded the Erasmus Charter for Higher Education (ECHE) for the period 2021 - 2027. The Charter provides a basic framework for international cooperation quality insurance between partner insinuations inside and outside the EU, which contributes to a better standardization of key elements and activities within the Erasmus+ mobility program.
The Charter is not only a guarantee, but also a prerequisite for the active and high-quality participation of higher education institutions in mobility programs for the purpose of new knowledge acquiring for students and staff, good practices exchanging with the aim of better and more advanced partnership cooperation within the Erasmus+ program.
The principles of the Charter are strongly aligned with the new guidelines of the Erasmus+ program for the period 2021-2027 in the field of digitalization, inclusiveness and sustainability.
This year for the first time higher education institutions from the WB third countries were enabled to apply for ECHE, which is also a guarantee for full participation in project proposals within the Erasmus+ call for European universities.